I'm off on Thursdays and it's raining so I thought I'd check out the merchandise at the stores today. The Spirit store is not open yet and I've already gotten the things I wanted from Big Lots this year. So I went to Party City, Halloween Express, Spencer's Gifts, and Target.
I saw a nice Black Widow spider at Spencer's. I think I might add that one to my spider collection. They also have the Scary Demon with Cross which is definitely on my list to add to the graveyard.
Halloween Express has tons of costumes and quite a few props. I saw a couple of spiders and a giant roach that looked pretty good. They had a couple of latex vultures that looked better than the one in Spencer's.
I picked up a couple of the large poly-resin gargoyles and a poly-resin cross from Target today. Last year I waited too long to the get the bigger ones and had to settle for the smaller canine gargoyles. Those poly-resin props are nicely detailed for the money.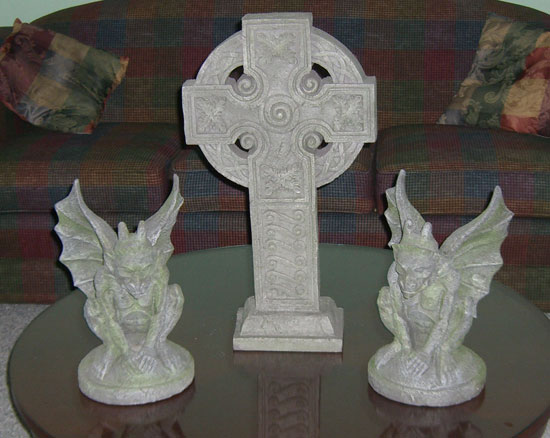 My giant toad arrived from the
Toy Lounge
today. I like him.