Tonight we have our ghost flying in the upstairs window. I shot a short clip with a Nikon D90 in video mode. The low light capability of that camera is quite impressive.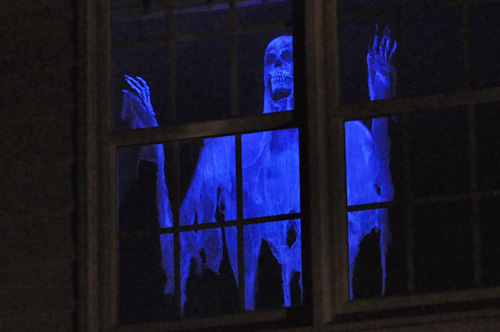 The still shot had the following EXIF metadata:
Size:2.9MB 10/18/2008 11:35:30 PM
Dimensions: 4288 x 2848 pixels
Camera make NIKON CORPORATION
Camera model NIKON D90
Camera Date 2008:10:18 23:35:30
Resolution 4288 x 2848
Flash Not Used
Focal length 105.0mm
Exposure time 0.067s (1/15)
Aperture f/5.6
ISO 3200
Metering Mode Matrix
Exposure Shutter Priority
I can't believe how sharp a hand held shot with a 105mm lens can be at 1/15 of a second exposure.