I continue to get questions and comments about our
Trick 'r Treat Sam prop
that we made a couple of years ago. I'm glad the movie finally came out so more people will learn what it's about.
Our Trick 'r Treat scene was one of the few we were able to get set up during the very rainy Halloween 2009. Unfortunately, the rain let loose again before I could get any good night photos. But here is a picture of Sam right before we put him out that evening.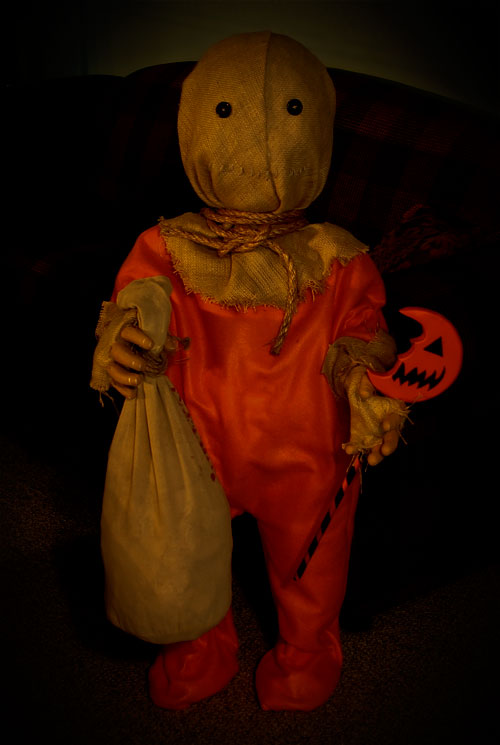 Sam was quite a simple Halloween prop to make. Here's a short description of what I used.
For the base, I built a PVC pipe armature based on the estimates of this calculator (
http://www.zombietronix.com/calculator_biped.php
).
For the hands, I used $6 Don Post severed hands purchased at Spirit Halloween that are slit at the wrist and fitted to a piece of PVC connected to the frame. A couple of pieces of burlap were used as "fingerless gloves" over the hands.
For the head, I used a Styrofoam wig head covered in burlap stitched up the center with button eyes and manila rope around the neck.
The pajamas were cut out of two pieces of orange craft felt purchased at JoAnn fabrics. It was cut to be larger than frame size so it would be baggy. Those two pieces were sewn together along each side. I used some poly fill inside the pajamas to give him some body bulk.
The candy bag was purchased at Big Lots a couple of years ago. It has a bloody hand that can be dangled on the outside or left inside the bag. The stick candy was carved from a circle of wood and a wooden dowel and painted to match the one in the movie.